Friday 18th May 2018
To celebrate the start of Pentecost, we wore bright flame coloured clothes and made flame headbands to symbolise the arrival of the Holy Spirit. We worn our headbands to Mass where Class 3 performed a special Pentecost flame dance.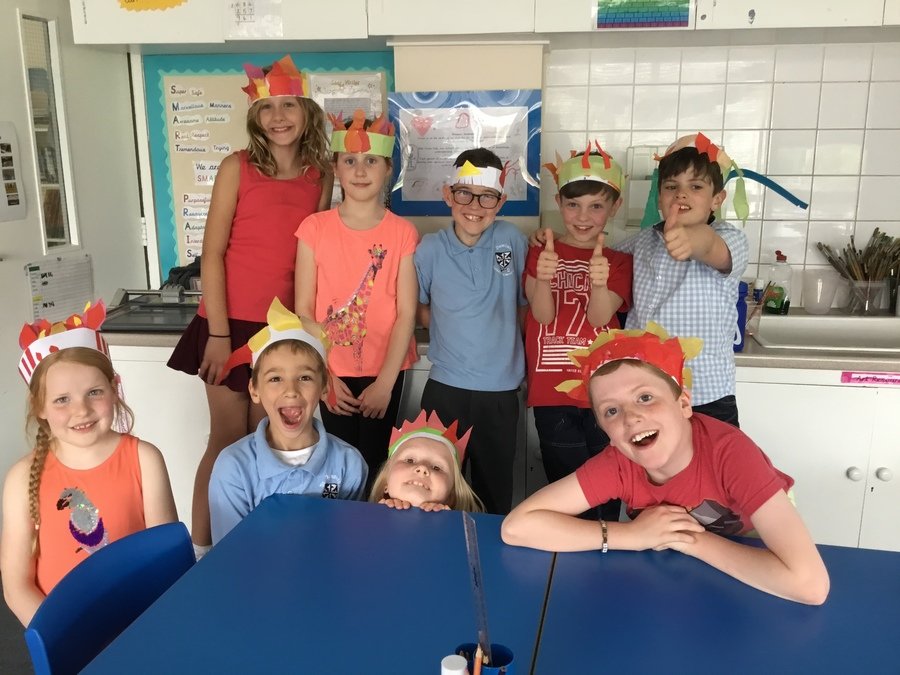 Friday 11th May 2018
As a celebration of Mary and the month of May we were allowed to wear our finest clothes to school. We attended a special Mass in our school hall, which was decorated with flowers and learnt about the importance of Father Bill's robes. After Mass we made flower head dresses, colourful streamers and arches, ready for the afternoons celebrations. We stared the afternoon reflecting, by taking part in a decade of the Rosary. This was followed by a parade up to the top field, led by our May King and Queen. Once we were there, some of our families joined us for a picnic and key stage 1 were able to eat their gingerbread Mary biscuits, which they had baked in the morning. The rest of the afternoon was spent playing rounders, flying kites and playing parachute games before heading back to school. It was a great day of reflection and celebration.
2017-18
Autumn Term - Information to follow
2016 - 2017
Autumn
The new school year began with a whole school service which welcomed Mrs Barnard, as the acting headteacher for the autumn term.
During the term, all classes attended and led class masses with the local parish.
There were also whole school services for Harvest and Advent, including a magical evening carol service by candlelight to which everyone was welcomed, led by children in class 3 and an end of term whole school mass which children in class 4 led. Mrs Jacqui Sollars, joined Mrs Barnard, the children, staff and community for this special mass which brought the spirit of Christmas to everyone who attended.
Spring term.
The term began with a special whole school mass to mark the start of the New Year and the arrival of our new headteacher Mrs Jacqui Sollars.
All classes joined the parish community to celebrate Mass on a Friday morning throughout the term. Following Mass, Father Bill came to visit classes and often helped out with learning. He is a welcome visitor to our school and the staff and children very much enjoy seeing him.
During Lent, each Key stage took turns on a Friday afternoon to join with Father Bill for the Stations of the Cross. It was a great way for the children to reflect, learn and prepare themselves for Easter.
Young Voices: The children who attended the young voices event in Birmingham, joined with children from other local schools who also attended to hold a special joint concert in St George's church, Nailsworth. It was a great opportunity to bring the wider multi-faith community together and give those who were unable to see the event to experience their singing.
Summer Term;
We joined with the local parish community for a special School Leavers Sunday Mass which children in Year 5 and Year 6 led with Father Bill and Deacon Bogdan. During the service, each Year 6 child was presented with an inscribed Prayer book as a special gift from the parish. Following the service, families and the community came together to enjoy refreshments in the school hall. There was a special leavers cake for everyone to tuck into. Here are some pictures of the year 6 pupils ad their families who joined in this special community event.