Prinknash Abbey
Class 3 went to Prinknash Abbey and learnt about refugees and why they had to flee their homes. The reason why they had to flee was because of bombing, poverty and persecution.
We sang some hymns on the walk trying to contribute to the 24,900 miles CAFOD are walking. We listened to 2 stories of a boy called Mohammed and a girl called Halima. On the walk we thought about the refugees and said prayers.
Three of the Chaplaincy team presented a Powerpoint to the whole school explaining what we did.
By Luke and Jacob (Class 3)
Here are some reflections of our day:
Dear God, we pray for them until CAFOD can help them and give them fresh food and water. Amen.
(Daniel)
I learnt that people are less fortunate than me, they are refugees.
(Ebony)
Today we showed the value of friendship because we said prayers whilst walking and sang songs for people who are refugees who had to leave their home.
(Finlay)
The Chaplaincy Team
Pupils from years 3- 6 have the opportunity to serve the school as part of the Chaplaincy Team. Anyone can put their name forward to be in the Chaplaincy Team. This year we have 12 pupils.
The Chaplaincy team play a vital role in the Spiritual life of the school and are supported by the Headteacher and Fr Bill from the church of The Annunciation.
The Chaplaincy Team perform many duties throughout the year including:
Working within their classes to ensure everyone is clear on the mission, values and aims of our catholic school.
Ensuring the Collective worship areas are a focal point in each classroom.
Assisting in promoting Gospel Values and deciding how best we can use these in our everyday life.
Writing and presenting whole school assemblies.
Planning and leading key stage/class collective worship.
Assisting in the organisation of school masses and liturgies.
Helping plan and lead charity events.
To make links with the Annunciation church and the parishioners.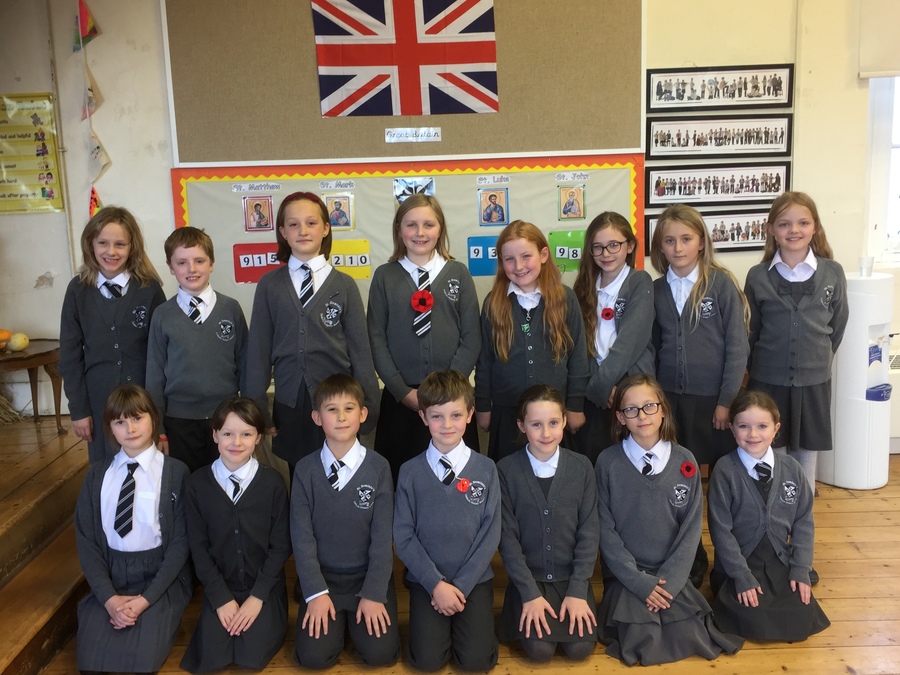 The St Francis Room:
This Year during the Year of Mission in response to Bishop's call to be a People of Hope for our school and the wider community, we are are focusing re-establishing this room for the whole school to enjoy. We aim to make this a spiritual, sensory room where children can spend time during play times or use as groups and classes for reflection or in the after school club. Members of the chaplaincy team will assist with this supported by the staff.
We will also use this room to meet for our chaplaincy meetings meet here during the week for our chaplaincy team meetings.
Outdoor spaces: Over the year we will also work with all year groups and staff to further develop an outdoor area for worship and reflection
Chaplaincy Training Day 2017
This year we went to St Peter's Catholic Primary where we joined with other chaplaincy schools from our cluster to reflect on our purpose and how we will contribute to our school, parish and wider communities. Ann Fowler, led our training day and we would like to thank her very much for helping us in this way. It was a great day where we had the opportunity to pray, reflection and share ideas on how to help deepen the faith of pupils, staff, family and friends of our school community. Here are some pictures of us working together.